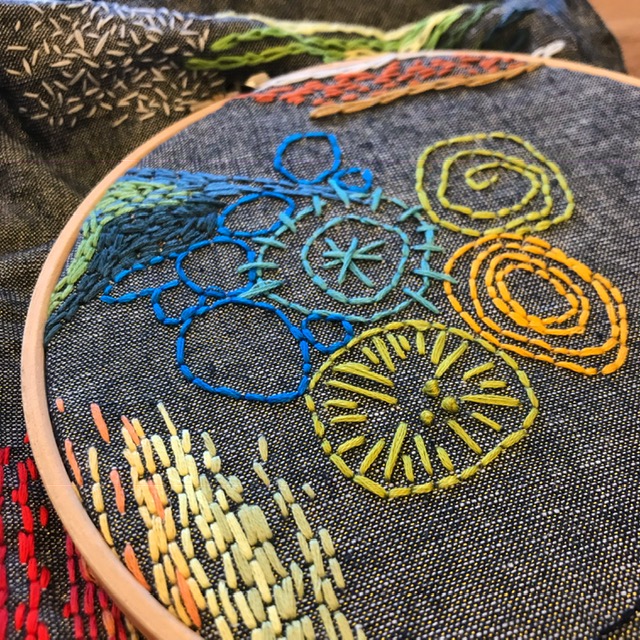 Classes
Free Form Embroidery Class
Saturday, Sept. 14 -or- Wednesday, Sept. 18 10am-4pm
Sign up deadline: Sept. 12
$60 (includes $20 for materials)
Teacher: Kim Hamlin
Learn how to take simple embroidery stitches to the next level using repetition, layering, color blending and more. Often times in embroidery, we may feel forced to stay on a straight line, or make a perfect design… but this class is the opposite of that. Look forward to crazy colors, wild shapes and lots of rule bending. This class is about trying new things..., stitching shapes without drawing them first (gasp!), trading work with your neighbor and even giving up and moving on to something new. Even if you're not much of a sewing person, I still invite you to come give it a try. You never know what you might discover!
Class materials included: Fabric, embroidery needle, embroidery hoop, embroidery floss (whatever is used during class) washi tape and a water soluble pen.
Students should bring: pin cushion, scissors, thimble (if desired) and any fabric or clothing you might want to stitch on in the afternoon.
For $15 a catered lunch by Cafe Nomad will be provided. This includes a sandwich, chips, pickle and a cookie. We will have a variety of beverages to choose from as well. Please specify your food preferences during the next step if you are interested.
PLEASE NOTE: lunch is not included in the class price and you will be charged the day of the class.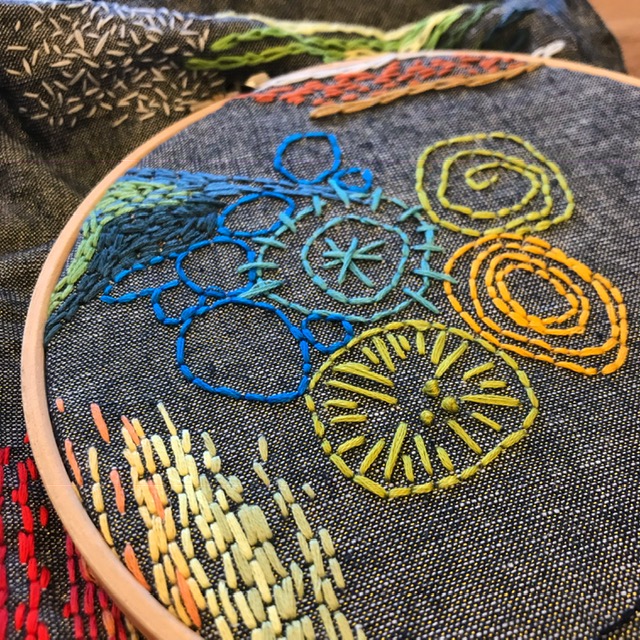 Additional Info
The Folk Art Studio at Fiber & Vine is now able to offer contact hours to teachers participating in our studio workshops. If you would like to receive a certificate documenting contact hours for a particular workshop, please let us know.

Fiber & Vine Class Policies
-You must sign up by the deadline by paying full class fee.
-This class must have at least 5 students to run. (This number might vary for guest teachers)
-When a class fills to capacity, a waiting list will be created.
-Classes will be canceled the day after sign up deadline if desired number of students has not been met.
-100% of class fees will be refunded if Fiber & Vine cancels a class.
-Students must provide 7 days cancellation notice in order to receive a full refund, minus a $5 registration fee.
-Cancellation up to 48 hours prior to class will be refunded, minus a $5 registration fee, ONLY IF we are able to fill your spot from the waiting list.
-Cancellation within less than 48 hours prior to class will not be refunded or redeemed for store credit.
-Classes may be transferred to a friend, but please let us know via email/phone.